Nighttime Body Butter for Fall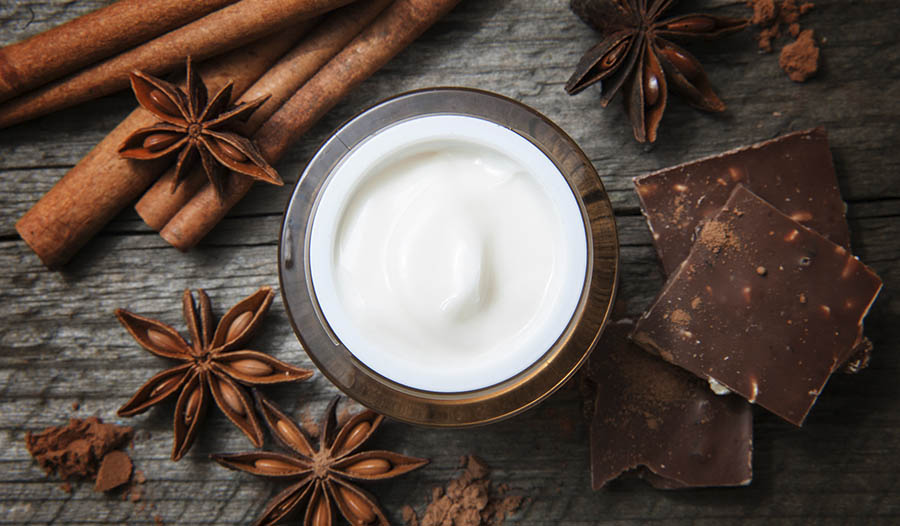 Make rich homemade body butter for fall weather.
It is the time of year again for pumpkin and spice and everything nice--except for the dry, itchy skin that often accompanies dry, chilly air. Fall is a pretty time of year, but keeping skin moisturized with drying indoor heat can be tricky.
There is a variety of lotions and creams available to combat this problem. Often, so many of them are not hydrating enough, are too expensive or have fragrance or another ingredient that may not be healthy. With homemade body butters, it is easy to adjust the texture, weight and fragrance.
Homemade body butters contain three main types of ingredients: a liquid oil, a solid butter and essential oils. Liquid oils can include jojoba, avocado, almond or coconut oils (coconut oil is solid under 75 degrees and can be used as either an oil or a butter, depending on the average temperatures of where it's stored). Rich, hydrating butters include cocoa butter or shea butter . Almost any essential oil could be used depending on the desired fragrance. For those who are unsure, lavender, lemon, frankincense and peppermint are popular options. When adding essential oils, only a few drops are needed. Three is usually a safe number of drops to start with and can be adjusted from there.
To make your own nighttime body butter for the winter, follow this recipe.
Ingredients:
Instructions:
Simply blend the ingredients, pour the mixture into an airtight container and wait for it to harden.
The body butter can be stored in the refrigerator or at room temperature in the same airtight container. It should last for three to six months. This fantastic body butter will hydrate and restore balance to dry, irritated skin.