7 Holiday Spice Mixes
DISCLAIMER
This blog does not intend to provide diagnosis... Read More

This blog does not intend to provide diagnosis, treatment, or medical advice. Read more. The content provided on this blog is for informational purposes only. Please consult with a physician or other healthcare professional regarding any medical or health-related diagnosis or treatment options. Information on this blog should not be considered as a substitute for advice from a healthcare professional. The claims made about specific products throughout this blog are not approved to diagnose, treat, cure, or prevent disease.
In this article: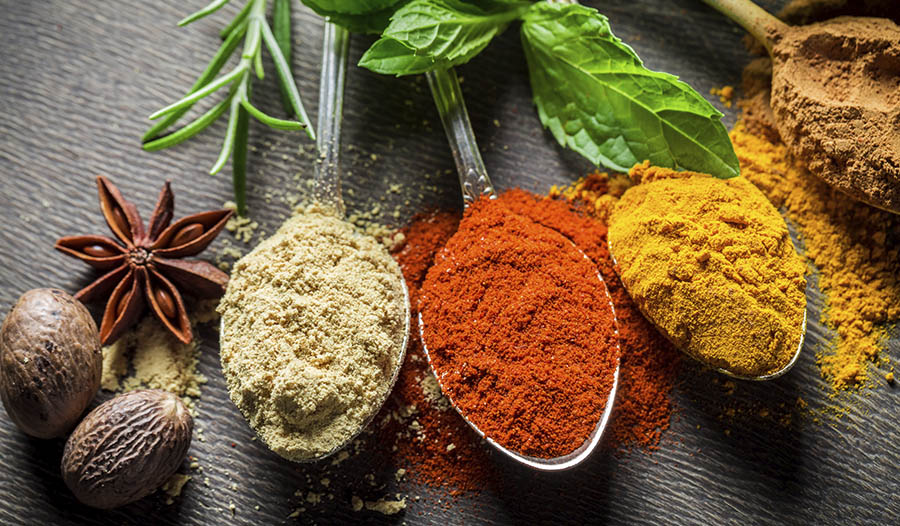 Buying spice and herb blends from stores can be quite expensive since one is buying both the raw materials and the finished product. Furthermore, packaged, pre-made products may contain other additives that can be harmful to human health, such as:
Silicon dioxide, which is believed to cause blood-related problems

MSG (monosodium glutamate), which reportedly can cause the death of brain cells

Modified food starch, which is often sourced from corn (a GMO concern) or wheat (a gluten concern)

Maltodextrin, which can cause gastrointestinal problems
The good news is that homemade spice and herb blends are easy to make, and if the ingredients are ordered in bulk, they can be cost-effective. Here are a few ideas on how to prepare seven spice mixes for holidays and special occasions.
Homemade Seasoned Salt
Homemade seasoned salt can come in handy in any recipe that requires seasoned salt, and it can substitute for other common seasoning blends. It can be modified with more or less of the other ingredients as preferred. It is possible to omit the celery salt, dill weed, or curry. Apart from being affordable, one of the greatest benefits of preparing homemade blends is versatility.
This seasoned salt blend can be used to enhance the tang of an otherwise bland skillet dish, stew, or soup. Use it to produce a zesty flavor in root vegetables or roasted potatoes.
Ingredients
Instructions
Put all the ingredients in a small blender, coffee grinder, or food processor and process on low speed to produce a fine and well-blended mixture. Store the mixture in an airtight container in a dry, cool place.
This seasoned salt can be used in any recipe that requires seasoned blends or as a table salt.
Traditional Italian Seasoning
Traditional Italian seasoning is among the most popular spice mixes. It is tasty and uses some of the most common herbs.
Ingredients
Instructions
Place all the herbs in a food processor and blend for one minute or until they reach the desired consistency. Store the seasoning in a sealed container. It can be safely preserved for up to 12 weeks.
This spice blend is ideal for a wide variety of Italian recipes, such as zucchini lasagna, grain-free spaghetti, meatza, eggplant parmesan, and chicken parmesan.
Poultry Seasoning Blend
This poultry seasoning blend can produce the best flavor in roasted turkey or chicken. Start by preparing a half batch of this seasoning mix and then adjust it to suit preferences.
Ingredients
Instructions
Blend all the spices in a food processor, coffee grinder, or bowl. They should be ground with a mortar and pestle in order to produce a more powdery consistency. The seasoning should be kept in an airtight container, like a sealed plastic bag, spice bottle, or glass jar. The mixture can keep for one to three years based on the age of the oldest ingredients. To prolong its shelf life, store it in a cool, dry, dark area.
To use this spice blend, coat the chicken or turkey with olive oil and sprinkle the poultry seasoning blend over the bird until there is a small layer covering the whole surface. Then cook as required.
Homemade Pumpkin Pie Spice Mix
Homemade pumpkin pie spice mix is essential for winter and autumn baking. This blend is suitable for any recipe that uses any combination of these spices.
Ingredients
Instructions
Place all these spices in a small cup or bowl and whisk or stir to mix them thoroughly. Then transfer the mixture to a small spice jar or canning jar. Store it in a cool, dark place.
Although pumpkin pie is the most common choice, this pumpkin pie spice mix can be used in sweet potato pies, tea, spiced cider, custard, and various cookies and cakes as well. It also makes a delicious topping for yogurt and ice cream.
Chili Powder
This simple homemade chili powder recipe can be easily doubled.
Ingredients
Instructions
Place all the ingredients in a bowl and blend thoroughly. The above measurements will produce approximately 2 tablespoons. To produce half a cup, use tablespoons instead. Transfer the blend to an airtight container or jar for future use or immediately use it in a recipe. Store the mixture in a cool, dry place. This chili mix can last for up to six months after preparation.
This simple chili seasoning is perfect for meatloaf and burger mixes and Tex-Mex dishes. Since the spices' potency deteriorates with time, this blend should be used as soon as possible.
Ranch Seasoning
Ranch dressing is one of America's favorite salad dressings. It is delicious when served with a variety of foods from fried chicken to raw vegetables. However, care must be taken in regard to how much is consumed as 2 tablespoons of ranch dressing contain about 150 calories. For a healthier alternative that is still flavorful, try this ranch seasoning recipe.
Ingredients
Instructions
Add all the ingredients to a bowl and whisk for a couple of minutes. The pulse setting on a food processor can produce a finer consistency. This blend should be stored in a sealed container in the refrigerator for up to three months.
Ranch seasoning is often used on poultry and various raw veggies, such as carrots, broccoli, and celery. It can also add an infusion of flavor to:
Baked potatoes

Potato skins

Chicken nuggets or tenders

Buffalo chicken sandwiches

Grilled chicken breasts

Pizza

French fries

Burgers

Macaroni and cheese

Tater tots

Flautas

Potato salad

Mashed potatoes

Grilled cheese sandwiches

Cheese-stuffed jalapeno peppers
Taco Seasoning Mix
This homemade taco seasoning mix is salt-free, but salt can be added as needed. This blend takes about five minutes to prepare and can be stored in the pantry. Use about 2 tablespoons in any recipe that requires taco seasoning. The amount of hot paprika, cayenne pepper, or crushed red pepper flakes can be adjusted to make the recipe more or less spicy.
Ingredients
Instructions
Place all the ingredients in a cup or bowl and mix them until the blend reaches the desired consistency. The seasoning should be stored in an airtight container.
This homemade taco seasoning can be used to spice up casseroles, dips, burgers, meatloaf, soup, and tomato sauce. It can also be added to shredded beef or pulled pork for tasty sandwiches, tacos, and burritos.
Homemade spice mixes are healthy because they don't contain additives. They also are convenient because the ingredients can be altered to suit one's particular preferences. Another plus is that it is convenient and cost-effective to buy the ingredients in bulk.