Glow-Enhancing Makeup Trends to Try For Summer
DISCLAIMER
This blog does not intend to provide diagnosis... Read More

This blog does not intend to provide diagnosis, treatment, or medical advice. Read more. The content provided on this blog is for informational purposes only. Please consult with a physician or other healthcare professional regarding any medical or health-related diagnosis or treatment options. Information on this blog should not be considered as a substitute for advice from a healthcare professional. The claims made about specific products throughout this blog are not approved to diagnose, treat, cure, or prevent disease.
In this article: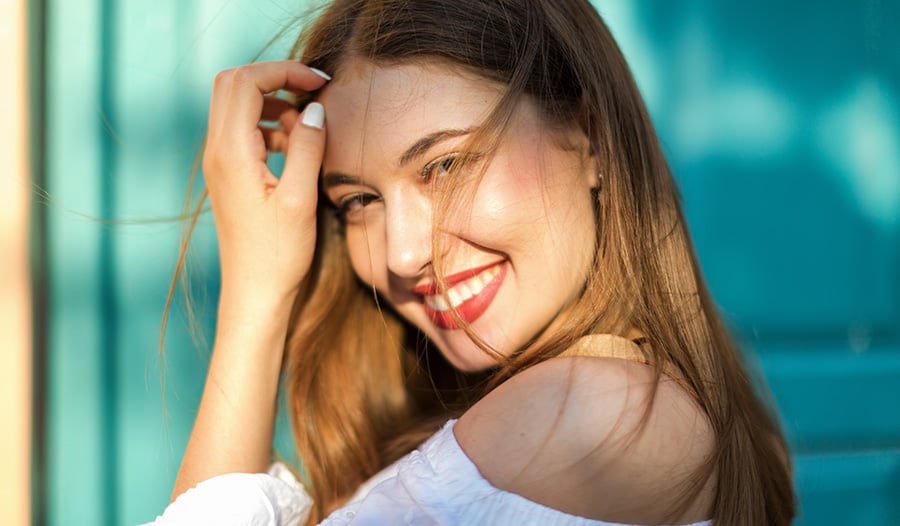 Summer is my absolute favorite time of year for new beauty trends. There is so much to shift moving into the warm summer season and we are here for it! With events back on, festivals happening, it's finally the perfect time to debut the looks we've been waiting for! In the current age of Tik-Tok & Instagram the number of new trends being uploaded every minute, I'm sure it can feel overwhelming at times so I'm here to sift through and explain what makeup trends I predict to take over and easy ones to try for yourself!
Sun-Kissed Blush
One buzzing trend this summer is to apply your blush to the apples of your cheeks instead of on the highs of your cheekbones. This will give a more youthful and sun-kissed appearance.
Starting at the apple of your cheeks, begin by blending backwards and upwards. Keep as much color as possible towards the front center of your face. Colors such as red, terracotta, and burnt oranges will be popping up this summer as it makes way to give off the vibe that you've been on the beach and bronzing in the sunshine all day without doing any harm to your skin.
Like the contour stick, cream stick blushes like L.A. Girl Velvet Blush Contour Stick in Glimmer are a hot trend this summer and won't melt away in the warm weather. For an extra cute boost of "I laid out in the sun all day," add a hint of blush across your nose as well.
The Glazed-Donut Look
Ok, let's get into the buzz around the glazed-donut look.
First, what is the glazed-donut look? When you think of a glazed donut, some words that might come to mind are: creamy, glazed, and glistening—am I right? Think extra plump, extra-moisturized, and glowy skin. This is a slightly more elevated look than the glass-skin trend that took place a few years ago.
How can you achieve a glazed-donut inspired look? Well, there is no glazed-inspired skin without a proper skin routine with the proper ingredients your skin will need. Here are the steps:
Cleanser
You want to start with a hydrating cleanser which is key for removing any grime or residue that may be on your skin. A great cleanser for all skin types, especially for sensitive skin types is the Vanicream Gentle Facial Cleanser. This cleanser is formulated without any fragrance, parabens, or irritants that can disrupt the skin barrier.
Serum
Next, you want to apply a hydrating serum to your face with ingredients like hyaluronic acid. A serum like Azelique Serumdipity Age Refining Hyaluronic Acid Serum will plump skin, absorb quickly, boost and retain hydration, and promote a healthy skin barrier.
Ceramide-Rich Moisturizer
After your serum is absorbed into your skin, apply a ceramide-rich moisturizer such as Acure's Ultra Hydrating Plant Ceramide Daily Face Lotion. This moisturizer is soothing and hydrating, formulated with no harsh ingredients and ingredients such as ceramides, niacinamide, and aloe.
Gua Sha Practice
Remember, you don't need to go overboard with your skin routine to achieve a glazed-donut look but having the proper skin routine curated for your skin type is step one. If you want to go above and beyond, you can add in a gua sha practice to get your skin looking awake and snatched before we get started on makeup.
And if you want to go even beyond that, then add a little LED light to the mix and use a Mei Apothecary LED Light Gua Sha. We love some red light in our skincare and we all know the benefits it can bring.
Tinted moisturizer
Your next step will be to get your makeup bag ready to create a glowy base. When it comes to a natural-looking complexion, you are going to want to opt for a skin tint or a tinted moisturizer instead of a foundation. You can try theBalm Cosmetics Anne. T Dotes Tinted Moisturizer for a tint loaded with skin-loving ingredients such as jojoba oil and murumuru seed butter.
Applying this with a dampened sponge-like the affordable Real Techniques Miracle Complexion Sponge will help achieve a natural skin-like base and help the product to blend like a dream.
Concealer
The next step is to conceal with a light hand. Use a concealer like the Ultra Creamy Soft Matte Concealer from Mad Hippie only on a blemish and in the inner corner of the eye area since that is where darkness likes to hide. This will immediately brighten and lighten up your eye area & promote an even base. It is best to spot conceal using your clean finger or a flat synthetic brush for a targeted treatment.
Cream-Based Makeup: Less Snatched, More Soft
For summer 2022, you can kiss heavy contouring goodbye. A hot trend that I believe is here to stay is a soft bronzed look. Think less snatched and more soft. This is achieved by using cream bronzers. Cream products are making a comeback and since cream-based makeup products are easily blendable, they make great for our glazed-donut look—see above!
Creams do tend to wear more naturally throughout the day and tend to look more natural than a powder formula. Use a stick formula like the Wet n Wild MegaGlo Contour Makeup Stick in Oak's On You that can be applied with your fingers or with a brush, and blended out with your damp blender sponge.
Summer Eye Trends: Pop of Color and The Kitten Eye
For eyes, there are two major trends happening this year. The first is a pop of color. Even if a full-statement eye is not your thing, adding a pop of color in your inner corner or on your lid can still look effortless.
You'll be seeing more blue and pastel purple tones in my kit and on my client's faces, like L.A. Girl Shockwave Neon Eyeliner in Fresh, and J.Cat Beauty X-Treme Access Pocket Shadow in Pops of Paparazzi.
Terracotta, as mentioned earlier, is another trending color that's perfect for summer. Whether you're hitting the beach or going out to dinner, it's such a beautiful shade that any skin tone can pull off. If applying on yourself, you can use your finger for a splash of colorful shadow with some mascara. I love the L.A. Girl Get Feverish Eyeshadow Palette for easy-to-wear shades.
The second trending eye look is the kitten eye. The cat-eye look is beautiful; however, a kitten liner is the new way to wing. Kitten eyes are a subtler version of a cat-eye. Think smaller lines that aren't harsh but create a gentle softness around the eyes when using a liquid liner like the Physicians Formula Ultra Fine Liquid Eyeliner.
The technique typically starts in the middle of the eye and uses a tiny stroke to create a small wing. Be sure to use a lash curler to help flare out your lashes and a lash extending mascara like the Maybelline Lash Sensational Mascara to really lengthen and lift your eyes to help create a kitten eye look.
No Matter The Trend, Always Go For Healthy Skin
I'm excited that glowy and glazed-donut skin is in this summer because it also means healthy skin is a priority. Find a good, balanced skincare routine and load up on SPF products with makeup products to help achieve a bronzed look while still protecting your skin from any harmful UV rays.
Whether you opt for a more effortless color or for no-makeup makeup, remember to wear your SPF, drink enough water, and cleanse your face every night.