The Ultimate Hydrating Skincare Routine
DISCLAIMER
This blog does not intend to provide diagnosis... Read More

This blog does not intend to provide diagnosis, treatment, or medical advice. Read more. The content provided on this blog is for informational purposes only. Please consult with a physician or other healthcare professional regarding any medical or health-related diagnosis or treatment options. Information on this blog should not be considered as a substitute for advice from a healthcare professional. The claims made about specific products throughout this blog are not approved to diagnose, treat, cure, or prevent disease.
In this article: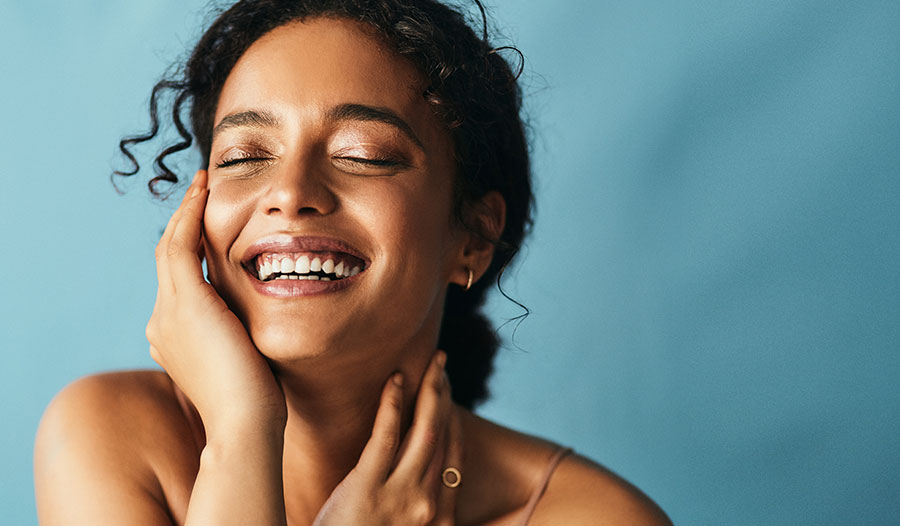 You may not know this, but it's likely that your skin needs change often enough, and for long enough periods of time throughout the year, that you'll need to switch up your skincare routine to allow your skin to live its best life. What you may not also know is how important hydration is—no matter the time of year or how your skin presents itself to the outside world.
For example, during the winter, you may feel like you need to increase your moisturizing products and then decrease that in the summer accordingly or eliminate it altogether. This, in fact, can give you the opposite result you're looking for. Here are my tips for ensuring your skin is glowy and plump looking, no matter where you live or what season it is!
6 Steps for Hydrated Skin
If you don't already have a skincare routine in place, or you have one, but you aren't sure it's what's best for your skin, finding what will work can seem daunting. The good news is, no matter whether you want a one-and-done product, or you're willing to set a decent amount of time aside morning and night to fully embrace the self-care aspect of caring for your skin, there is an option for you!
Step One: Cleansers and Scrubs
First things first, before you moisturize to any extent, you must cleanse your skin! Not only does it remove any barriers from your skin that could possibly prevent the skincare you apply on top from properly penetrating, but any residue you leave behind could also irritate your skin and cause breakouts. While first removing your makeup and then cleansing your skin (referred to as double cleansing) is advised, if you don't have the time or energy for that, the Banila Clean it Zero Cleansing Balm or Cetaphil Daily Facial Cleanser can check both boxes! Even better, neither of those will strip your skin of its natural oils, so it won't leave you feeling dry and tight.
If you want to take your cleansing routine a step further and you want your skin to feel smoother than it ever has before, incorporate a scrub! Something like the ACURE Brightening Facial Scrub will do just that.
If all you care to do is cleanse and apply a single moisturizer, then skip to step 5.
Step Two: Toners
Most everyone likely knows what cleansers and moisturizers do, but there are other categories of skincare that are less well-known. For example, toners. By using the Dear Klairs Supple Preparation Toner, you can cleanse, soothe, and moisturize simultaneously.
Using the Some By Mi AHA BHA PHA 30 Days Miracle Toner, you can brighten, smooth, and reduce the appearance of blemishes and unwanted pigmentation.
No, this step isn't necessary, but with the right one, you can do anything from removing any remaining residue left after step 1, chemically exfoliating, reducing inflammation, decongesting your pores—the possibilities are nearly endless in this product category!
Step Three: Essences
This skincare step is the one I added the most recently, but now can't imagine my routine without it! Meant to hydrate and create a base for your remaining steps to better absorb into your skin, essences can make your serum or oil and moisturizers work more effectively. If you're on the fence, take the leap and consider the Missha Time Revolution The First Treatment Essence Rx!
Step Four: Serums and Oils
If you want your skin to radiate like you spent a day at the spa, start using a serum or oil! If you're looking for something lighter weight, going with a serum like the Mizon Hyaluronic Acid 100 is your best bet. It will give you immense hydration without feeling like there's anything on your skin.
Step Five: Sunscreen
More important than thoroughly cleansing your skin daily, you must use sunscreen! Even if it's cloudy outside, your skin can still be exposed to the sun's harmful rays. Excessive unprotected sun exposure has been proven to result in wrinkles, sunspots, and serious health issues.
That being said, during the day, using a product like Pipette Mineral Sunscreen Broad Spectrum SPF 50 or Hero Cosmetics Force Shield Superlight Sunscreen SPF 30 can help greatly reduce your risk of all of those!
Step Six: Nighttime Moisturizers
Nighttime moisturizers are one of my favorite products to apply because they traditionally feel so rich and luxurious, no matter the price point!
The Mad Hippie Triple C Night Cream and Pond's Rejuveness Advanced Hydrating Night Cream are excellent choices, based on many glowing reviews for both!
Extra Steps To Lock In The Moisture
Eye Cream: If you struggle with extraordinarily dry, dark, and/or puffy undereyes, it may be best to incorporate an eye cream. Experts vary in their opinion on whether eye cream is necessary, but if it's a product you've been intrigued to try, the I Dew Care Glow-Key Brightening Vitamin C Eye Cream looks promising!
Lip Care: One often ignored aspect of skincare is the lips. We wear lip gloss, lip liner, lipstick, etc. but usually go to bed with nothing to provide the TLC they lacked during the day. Saying that the Cosrx Lip Sleep Ceramide Lip Butter Sleeping Mask is something your lips would thank you for would be an understatement!
Face Masks: If you ever find yourself unwinding at the end of the night with your favorite beverage, book or TV show, and cozy blanket or sweater, that is the perfect time for a face mask! Whether you prefer a sheet mask like the Radiant Seoul Beauty Plumping Sheet Mask or a clay mask like the Elizavecca Milky Piggy Carbonated Bubble Clay Mask—trust me, it's a ton of fun to use—you will quite so pampered adding this to your routine, whether you're keeping it simple or going all in!
What Order Should I Use My Skincare Products In?
If all of this sounds overwhelming, I get it! I put off finding products that worked for my skin for far too long because I didn't know where to start!
My first suggestion would be to find a skincare expert near you. You don't need to commit to getting monthly facials (unless you want to!) but going to a professional that can tell you what skin type you have can help you start to locate resources online that can guide you into the categories you should be purchasing.
If you retain only one thing from this blog post, let it be this: My favorite tip I learned from watching beauty content on YouTube years ago was that when in doubt, apply your skincare products in the order of their weight. Essence has the consistency of water, which would be considered the most lightweight and the first to be applied (after cleansing, of course). Then your serum or oil and finally your moisturizer. Last but not least, have fun and enjoy knowing you're doing something good for your present and future selves!