Thinking of Cosmetic Eye Procedures? Try This Instead
DISCLAIMER
This blog has not been approved by your local health department and is not intended to provide diagnosis, treatment, or medical advice. Read More

This blog has not been approved by your local health department and is not intended to provide diagnosis, treatment, or medical advice. The content provided on this blog is for informational purposes only. Please consult with a physician or other healthcare professional regarding any medical or health-related diagnosis or treatment options. Information on this blog should not be considered as a substitute for advice from a healthcare professional. The claims made about specific products throughout this blog are not approved to diagnose, treat, cure, or prevent disease.
In this article: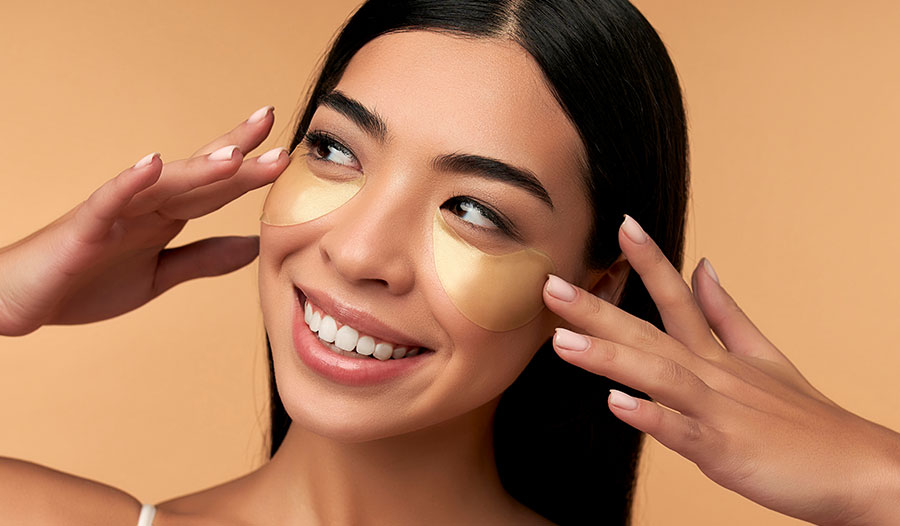 One of the first places you begin to notice changes with age is around the eyes. There are cosmetic eye procedures that help address concerns you may observe with aging, but invasive approaches don't come without risk. Both upper and lower eyelids are delicate areas to perform cosmetic procedures on and complications can be a real challenge to address.
If you are noticing changes in the area around your eyes and it's bothering you, there are things to try before turning to cosmetic eye procedures. Changes to your lifestyle and skincare routine can yield noticeable results when it comes to aging, especially around your eyes.
Why Are Your Eyes the First Place to Show Signs of Aging?
As you age, your body produces less collagen, resulting in changes to the underlying structure that supports your skin. As a result, you begin to notice a loss of firmness in the skin. Collagen production declines in every area of your body beginning around age 30. Since the skin around the eyes is thin and delicate, slight changes in the area may be more noticeable. As your body produces less collagen, the skin around the eyes develops wrinkles or begins to sag and droop.
There aren't strong supporting structures around the eye and if you feel around them, you'll be reminded the skin is draped over the hollow space of your eye socket. As the skin weakens, you may begin to see that hollow space. Bags under the eyes are a common complaint with aging but other factors can contribute to eye bags including fluid retention, allergies, smoking, lack of sleep, and stress. Even genetics play a role!
What Can You Do to Combat the Signs of Aging Around Your Eyes?
With so many variables playing a role in how your eyes look, consider other remedies before turning to surgical procedures. There are definitely products and lifestyle changes that can help combat changes you notice around your eyes.
While an underlying medical condition is not the most common reason you may notice bags under your eyes or sagging skin, you should always check with your doctor to ensure whatever changes you are observing is not the result of an illness. If you decide to incorporate supplements or change your diet, it's recommended you discuss those changes with your doctor as well.
Here are some things to consider before surgery or other cosmetic eye procedures.
Use an Effective Eye Cream or Serum
Choosing an eye cream can be a daunting task. There are so many! However, the right cream can help build collagen and target specific issues such as discoloration, dark circles, wrinkles, and puffiness. When you begin using an eye cream, things don't change overnight but you should begin to see results in a couple of months if you're consistently using the product as directed.
Eye creams with peptides or retinol can help stimulate collagen growth. Ceramides protect the skin barrier preventing dryness. Glycerin, hyaluronic acid, and niacinamide are wonderful for hydration, and alpha-hydroxy acids gently improve skin tone and wrinkles promoting the cells to turn over more quickly. Cell turnover clears away dead skin cells to reveal brighter, fresher skin. These aren't the only hero ingredients to look for in eye creams, but they can really make a difference depending on your specific skin needs.
One of my all-time favorite combinations is using a vitamin C serum in the morning and a moisturizing product with a retinol at night. After a couple of months of introducing these ingredients into my skincare routine, my entire complexion was brighter. My skin had a glow that it never had before.
The good news is, you don't have to spend a fortune on an effective eye product. Here are some recommendations that contain special ingredients to improve the appearance of your skin around the eyes.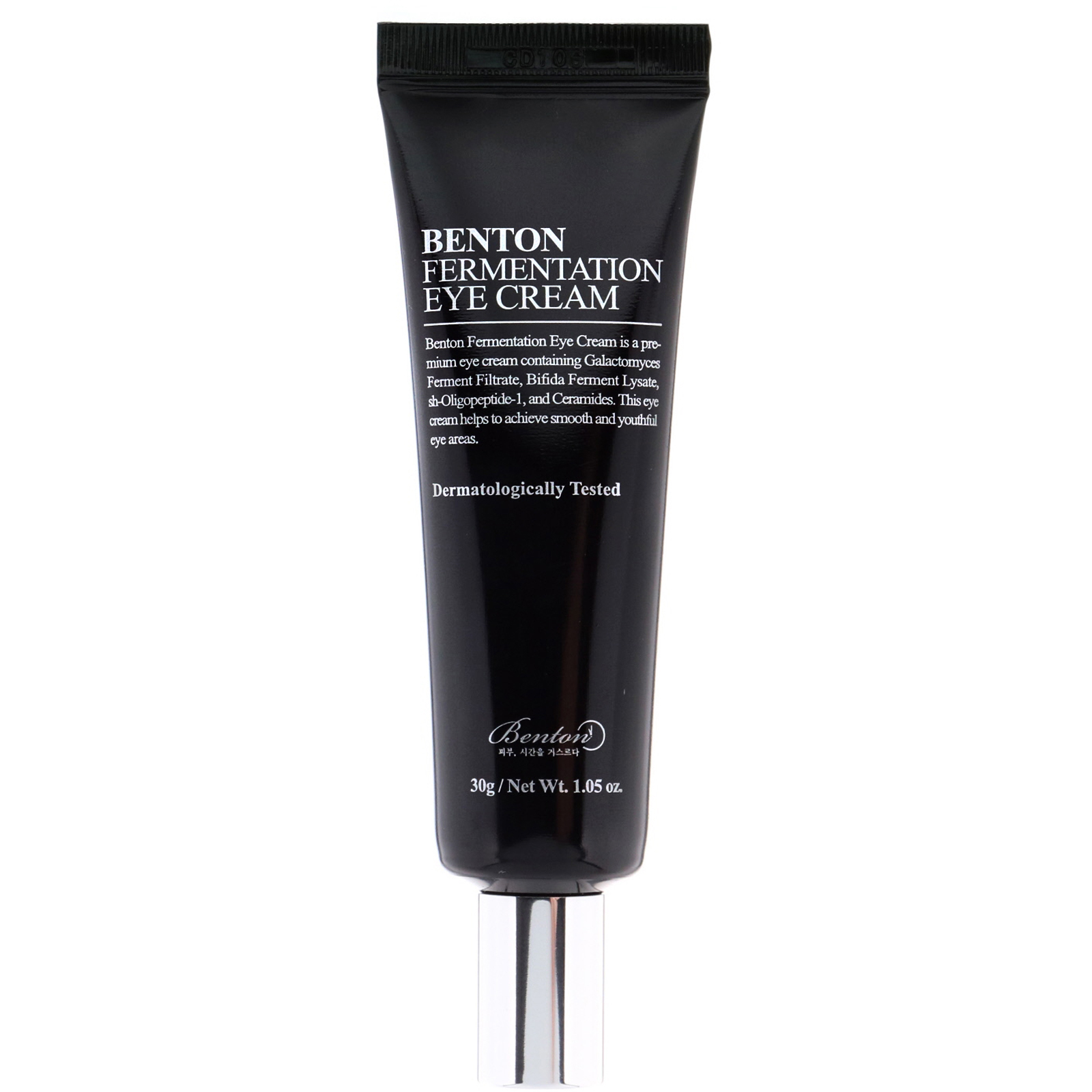 Benton is a Korean beauty brand and their Fermentation Eye Cream is a magnificent formula! Fermented ingredients are popular in Korean skincare and the hero in this product. The hero ingredient in this cream is called galactomyces ferment filtrate (that's a mouthful) but what's important to know is that it helps to brighten skin, minimize the appearance of pores, and control oil production. It's a highly nourishing ingredient. In addition to the ferment, this eye cream also contains ceramides, hyaluronic acid, aloe, and other ingredients to deeply hydrate the skin. This highly-rated product also contains ingredients to plump and smooth the eye area. It's also cruelty-free and is verified Green with the Environmental Working Group.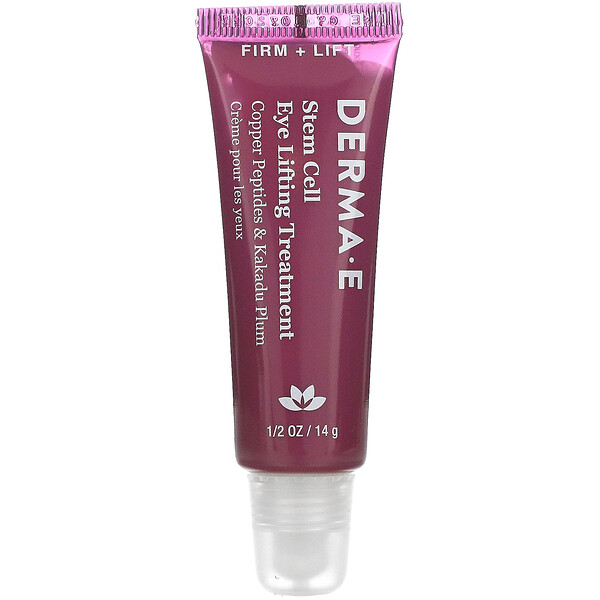 Derma E has been making clean and effective skincare products since 1984. It's a brand I trust and I've used many of their products over the years. The Stem Cell Eye Lifting Treatment contains copper peptides. Remember early I mentioned peptides help build collagen? This is what makes this product a great antiaging option for the eye area. Plant stem cells help to smooth out the eye area and antioxidants protect the skin from future damage. Derma E products are cruelty-free and vegan. The brand focuses on ingredient safety and the use of natural ingredients to provide effective, safe skincare solutions.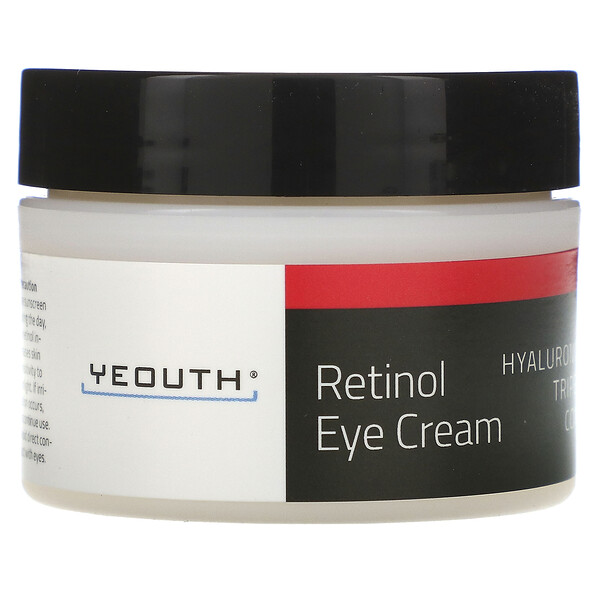 This best-selling, multi multi-tasking eye cream helps to address a myriad of concerns. Yeouth is a Korean company and their products are designed to work especially well when combined with others from the brand. This eye cream contains retinol to help stimulate collagen and a tri-peptide complex to reduce the appearance of puffiness, bags, wrinkles, and dark circles. The hyaluronic acid in the cream attracts moisture to the skin to boost hydration. Yeouth also makes a Vitamin C & E Serum that I would recommend using in the morning. Their C serum contains a vitamin C derivative that is gentle yet effective at brightening the complexion and fading dark spots. If you use the retinol eye cream with the vitamin C serum, the C serum should be used in the morning and the retinol cream at night.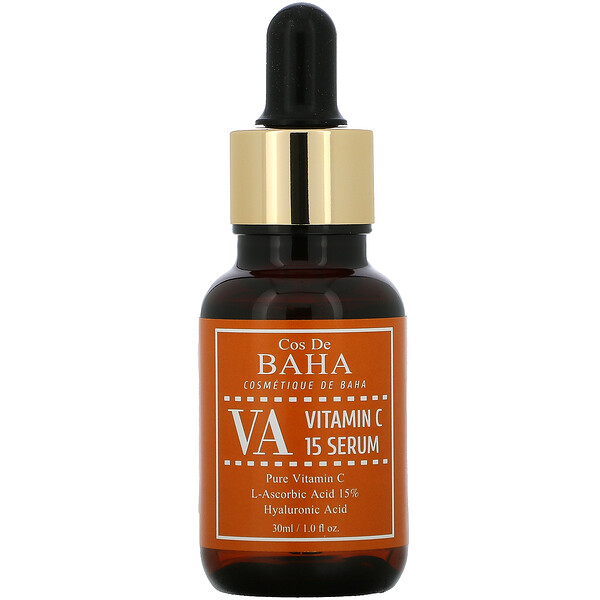 For a powerhouse vitamin C serum formulated with pure vitamin C, L-ascorbic acid, try Cos De BAHA. This is an affordable vitamin C serum in an aloe-based solution that may ultimately give you the overall glow you are looking for. Vitamin C serum can be applied under the eyes but be careful not to get any in your eyes as it will burn (unfortunately, I've experienced this). If you notice irritation when using a pure vitamin C serum, try it every other day until your skin is accustomed to it. The aloe in this serum should minimize irritation for newbies and why I recommend this product to so many people. Vitamin C is one of the skincare ingredients proven to reverse skin damage caused by the sun and it's a game-changer when introduced into any skincare routine.
Try Quick-Fix Eye Masks
A good skincare routine will yield results over time but some days require an extra boost or a targeted solution for a quick fix. That's where eye patches and masks come in! They can do wonders for tired eyes by boosting hydration and circulation for a more revitalized appearance. Eye masks can also help calm down puffiness, soothe irritation from allergies, or reduce the appearance of dark circles resulting from a lack of sleep. The key to great results from an eye mask is to look for the ingredients in the product that will target the specific issue you have.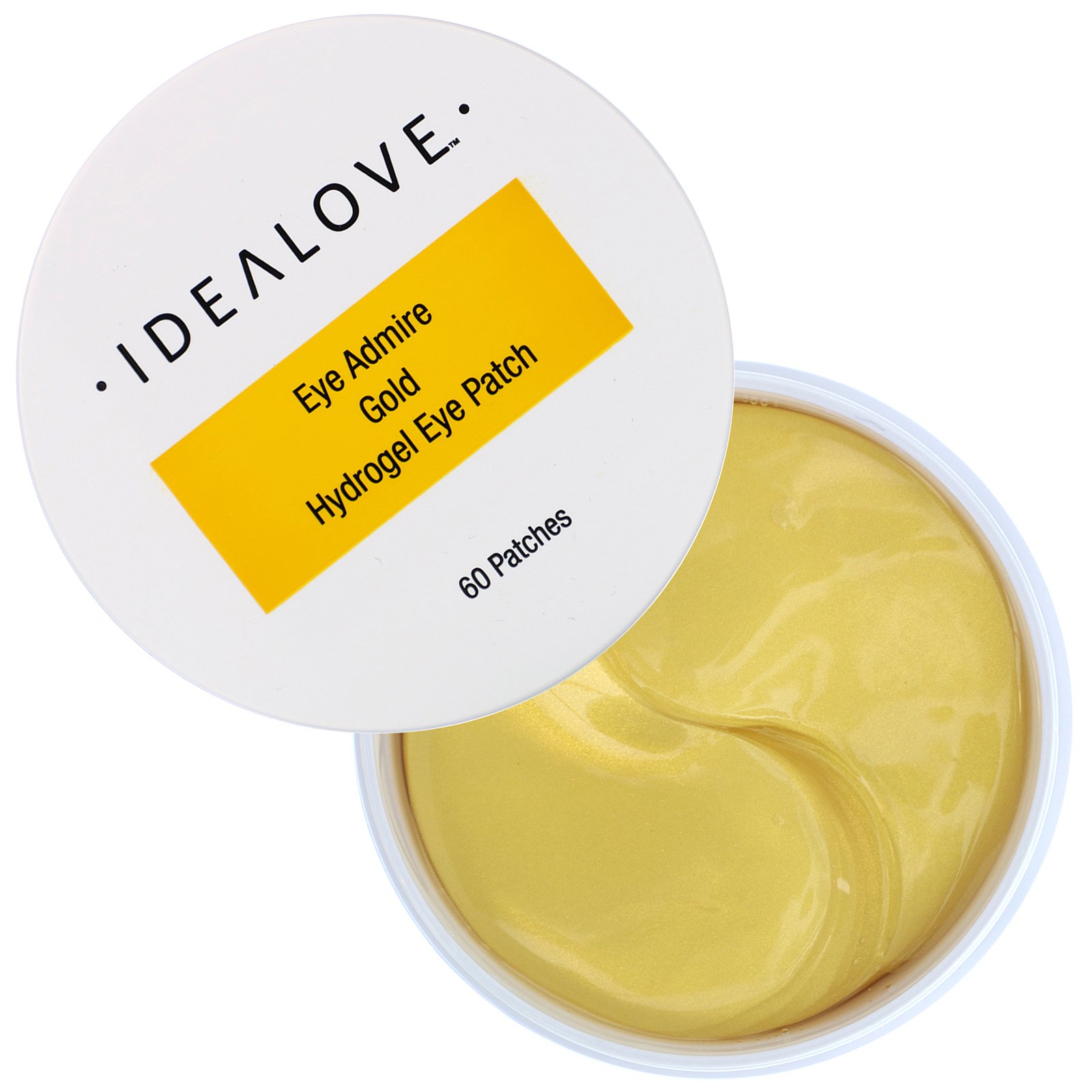 These hydrogel eye patches from Idealove are an amazing multi-tasking eye mask. The jar comes with 60 patches and you place one under each eye for 20 minutes. What makes these unique is they have three types of hyaluronic acid for deep lasting hydration. The more hydrated the skin is around the eyes, the less you will notice fine lines and wrinkles. The hyaluronic acid plumps the skin to diminish the appearance of the lines. These patches also contain skin-soothing ingredients to combat redness and antioxidants to reduce inflammation and provide long-lasting protection against future skin damage. The combination of ingredients in these eye patches provides an infusion of rich and effective formula for a nourished and revitalized appearance.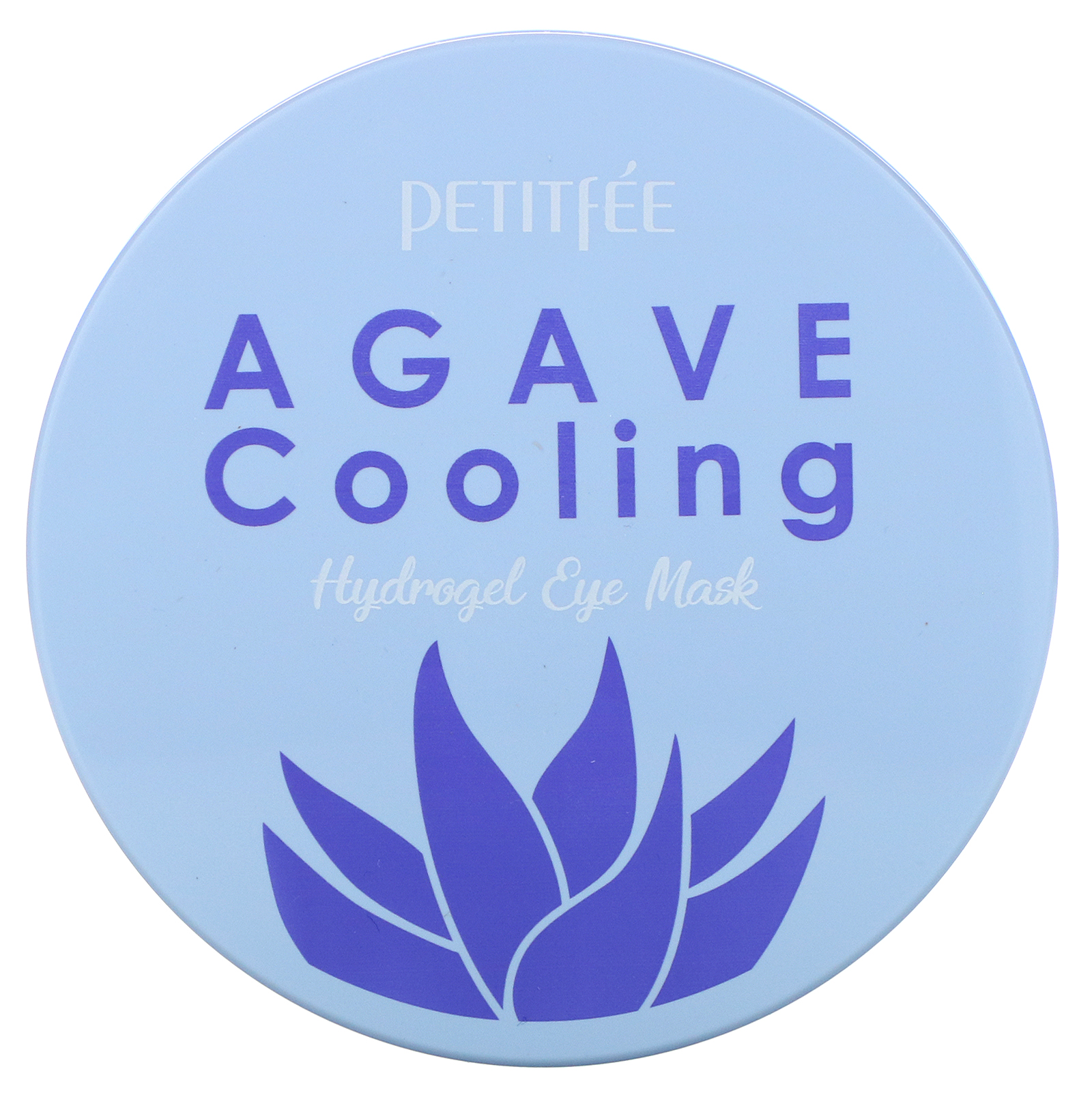 This best-selling Korean brand, Petitfee, offers many solutions for a quick fix to your eyes. For the days you wake up and your eyes are puffy from allergies or crying, these hydrogel masks are packed with ingredients to soothe and depuff the eye area. Just as the title suggests, the eye masks contain agave extract which provides a cooling effect. Blueberry and eggplant extracts calm the skin. A boost of caffeine in these eye patches further helps to reduce puffiness and boost circulation to give you a refreshed look. These are especially wonderful if stored in the refrigerator, which will help further calm down irritation and puffiness.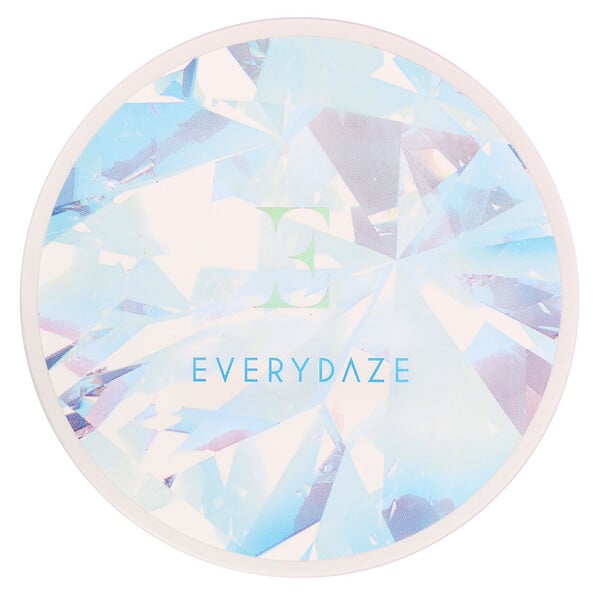 If you had a late night or difficulty sleeping and you wake up with puffy eyes and dark circles, these eye masks from Everydaze are the quick fix to reach for. The caffeine infusion from these masks reduces puffiness and swelling and wakes up the eye area, giving it a more energized appearance. Just as the name suggests, these eye patches also contain a diamond powder that boosts collagen production and brightens dull skin for a refreshed glow. This ideal product also contains ingredients that help diminish dark circles and improve skin texture.
Improve Your Sleeping Habits
It's true: you actually need your beauty sleep. Not only can poor sleeping habits result in dark circles and dry eyes, but a lack of sleep can affect your overall eye health. If you have noticed changes in the appearance of your eyes, consider whether you are getting enough sleep at night.
The amount of sleep people need varies by individual but on average at least five hours is necessary for your eyes to replenish. If you are getting less sleep than that, your eye health may be at risk and it's important to evaluate your sleeping habits. Consider some supplements to help regulate your sleep so you can wake up looking refreshed.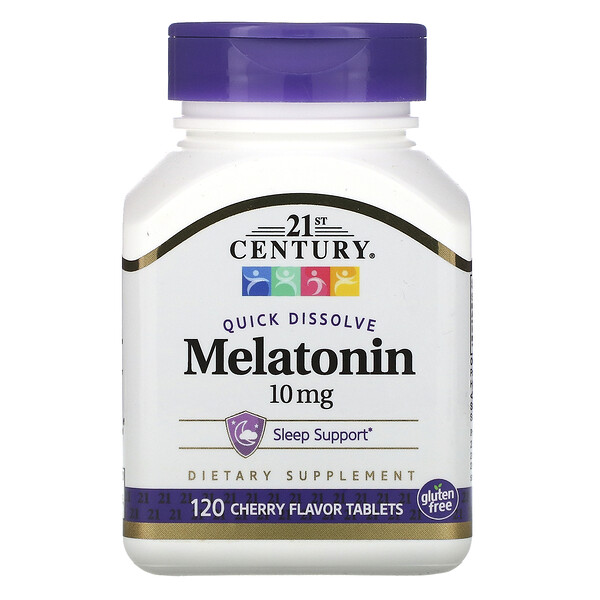 Melatonin is a natural supplement that is believed to promote sleep and relaxation. Our pediatrician recommended melatonin for one of our children who didn't sleep well at night and I noticed it really helped our son. For people who have difficulty swallowing pills, these are quick-dissolving tablets with a pleasant flavor and they are laboratory tested. These tablets are also gluten-free and an overall great value!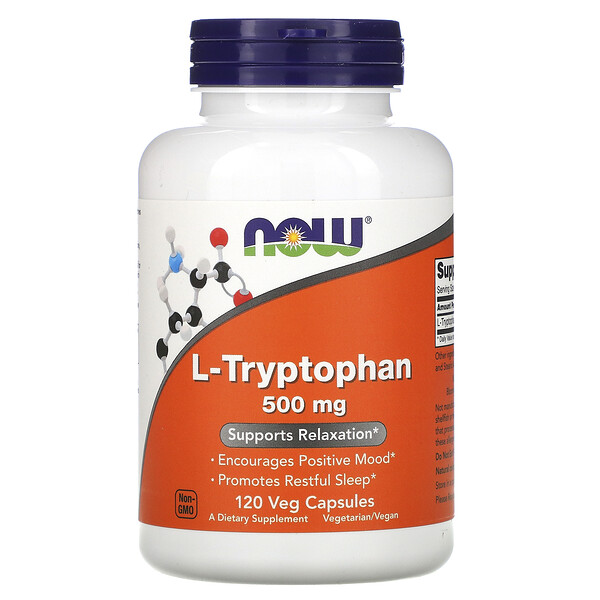 Another supplement to consider that helps promote relaxation, restful sleep, and a positive mood is L-tryptophan. This is an essential amino acid and it's not something your body can produce on its own. It must come from your diet or a supplement, such as this one. I have personally visited the NOW Foods manufacturing facility in Illinois and their quality program is phenomenal and the facility is sparkling clean. This is a brand I trust and know I'm getting exactly what it says on the bottle.
Consider Oral Collagen Supplements
Collagen supplements have become more popular in recent years and many people claim they notice a difference in their skin after incorporating collagen supplements into their daily routine. After two months of using collagen, I have noticed my skin is not as dry as it used to be. Collagen is what makes up the structural support for our skin and as it breaks down, the skin begins to wrinkle and is less firm.
There are other benefits associated with taking collagen supplements besides improved skin texture such as stronger teeth and gums, joint, and cartilage tissue. The supplement is most commonly consumed in the form of a powder or tablet so I will recommend one of each for you to choose from. I like using the collagen capsules and have made it a habit to take them at bedtime.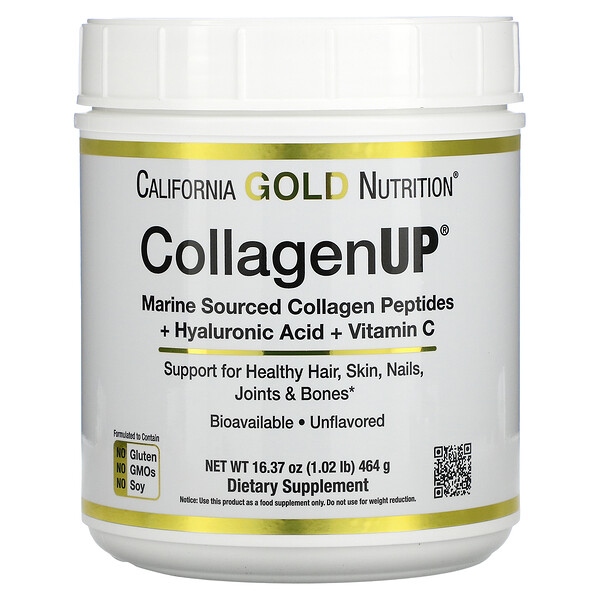 This collagen powder comes from marine sources but it is derived from fish so it's not a vegan product. If you are looking for a vegan collagen supplement, consider a plant-based collagen supplement such as Sunwarrior Collagen Building Protein Peptides. CollagenUP is unflavored and dissolves quickly in liquids. Many people enjoy adding this to their coffee, tea, or juice in the morning. It doesn't alter the flavor or texture and makes it easy to incorporate into your daily routine. Other ways to consume the powder would be to add it to smoothies or shakes. It's best consumed without other proteins so keep that in mind as you consider how to work this into your diet.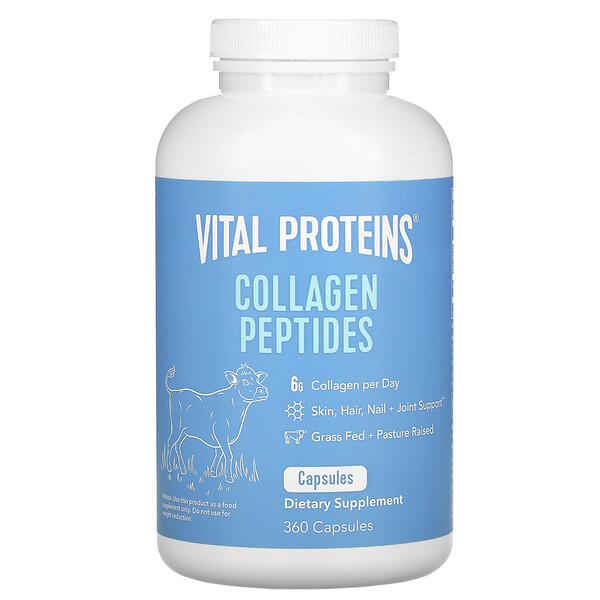 My collagen supplement of choice is from Vital Proteins. This company has been highly rated for its collagen supplements and the capsules are easy to consume. The jar comes with 360 dairy-free, gluten-free, Kosher capsules. The dosage is six capsules daily, so I take three in the morning and three at night, but you can also take them all at once. Before choosing these for myself, I read many reviews and this brand was one that stood out and people noticed a difference using the product.
Don't Underestimate The Benefits Of Living Healthy Lifestyle
We've covered a lot of ground here! And that's because there are many variables that affect your skin, especially around your eyes. Living a healthy lifestyle is always the first thing to consider. Don't underestimate the benefits of drinking water, eating a healthy diet, and exercising and how much that can affect your overall appearance, especially when it comes to the area around your eyes.