Best Lightweight Moisturizers for Summer
DISCLAIMER
This blog has not been approved by your local health department and is not intended to provide diagnosis, treatment, or medical advice. Read More

This blog has not been approved by your local health department and is not intended to provide diagnosis, treatment, or medical advice. The content provided on this blog is for informational purposes only. Please consult with a physician or other healthcare professional regarding any medical or health-related diagnosis or treatment options. Information on this blog should not be considered as a substitute for advice from a healthcare professional. The claims made about specific products throughout this blog are not approved to diagnose, treat, cure, or prevent disease.
In this article: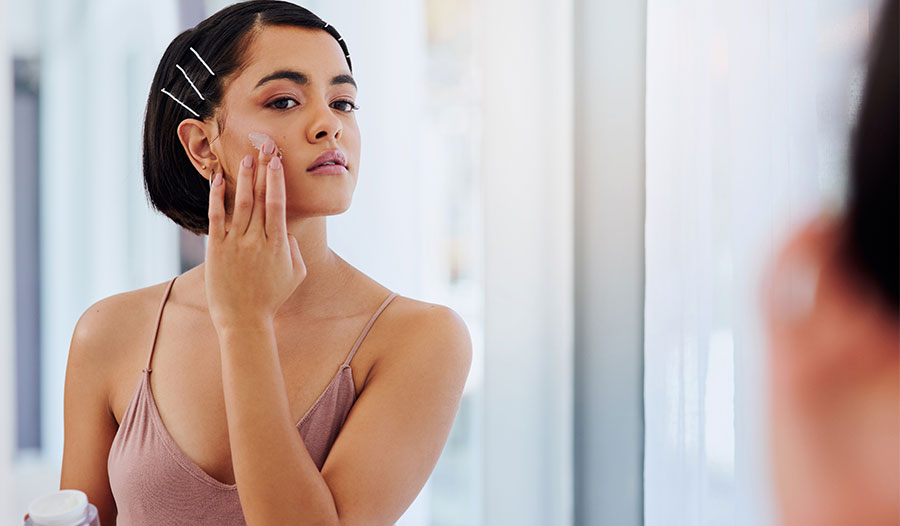 With the arrival of summer, changing your skincare routine is essential for maintaining healthy skin. When it's hot outside, most of us don't want a heavy moisturizer on our faces and we don't need it. During the summer, humidity levels are higher and our bodies sweat more. As we sweat, our sebaceous glands become more active and produce more oil that can trap dirt, bacteria, and pollution on the surface of our skin. This leads to breakouts and skin that appears dull and tired. Just as we lighten up our clothes when the weather warms up, we should lighten up our skincare routine.
‌‌‌‌How Do I Pick A Moisturizer For The Summer?
In warmer weather, our skin retains moisture better than it does during the dry winter months. When summer arrives, it's time to ditch the heavy creams and reach for lightweight moisturizers, gel creams, and serums. Double-duty products such as moisturizers that also contain sunscreen or serum are also great options for the summer months. Choosing the right skincare will not only help your skin look better, but your skin will feel better and more refreshed.
There are many products specifically formulated to keep your skin healthy during hot and humid summer weather. With so many options available, it's difficult to decide how to change up your routine. Focus on protecting your skin with a broad-spectrum sunscreen while spending time outdoors and using a lightweight moisturizer that provides the needed moisture while controlling oil production to avoid clogged pores and breakouts. If your skin appears dull or you are experiencing breakouts, it may be due to excess bacteria and dirt that you didn't realize were trapped on the surface of your skin. A change as simple as the type of moisturizer you are using may be the solution to unwanted changes you notice with your skin.
‌‌‌‌What Type of Moisturizer Should I Look For In The Summer?
Water-based moisturizers, serums, and gel creams are ideal for the summer months. Look for lightweight products when changing things up for your summer skincare routine. They offer optimal hydration and won't clog pores that lead to breakouts. Plus, they feel wonderful on your skin and create a beautiful canvas if you like to wear makeup in the summertime. Water-based moisturizers are easily absorbed and won't leave your skin feeling tacky or sticky.
Here are some top picks for lightweight moisturizers that will suit everyone. These choices will transform your summer skincare routine and help you achieve fresh and glowing healthy summer skin.
‌‌‌‌Best Overall Lightweight Moisturizers For Summer Skincare
Neutrogena's Hydro Boost Water Gel is a lightweight moisturizer for all skin types. The star ingredient is purified hyaluronic acid that locks in moisture all day. Hydro Boost Water Gel is available in a trial size for those looking to test out the product before committing to buying a larger size. This budget-friendly line also includes Hydro Boost Gel-Cream Extra Dry Skin, an intensely hydrating formula, for those who need an extra boost of moisture and hydration. The Hydro Boost City Shield Water Gel Sunscreen is a double-duty product offering hydration plus a broad spectrum SPF 25 and antioxidants to help protect against pollution-exposed skin.
This triple-duty skincare product offers broad-spectrum sunscreen, fast-absorbing moisturizing cream with up to 24 hours of hydration, and the power of a serum. Garnier's serum cream has been tested on all skin types and results reflected plumper-looking skin within three days and reduced the appearance of wrinkles within seven days. This innovative serum cream is a perfect multi-tasker product that avoids the need to layer multiple products allowing your skin to breathe in the hot summer months.
RoC skincare has a huge selection of products to meet different skincare needs and is recommended by dermatologists. This is a leading French skincare line that has been creating best-selling skincare solutions since 1957. The Multi Correxion Revive + Glow Gel Cream formula can be used with any skin type and is a lightweight gel that visibly brightens and plumps the skin. Vitamin C is an incredible addition to any skincare routine. It's a powerful antioxidant and is clinically proven to repair damaged skin. This lightweight gel cream formula is a personal favorite of mine. Vitamin C is the most important ingredient in my skincare routine. RoC's formula is not greasy and leaves your skin feeling silky soft. If you are looking to introduce Vitamin C into your routine this summer, RoC's Multi Correxion Revive + Glow will help you get an even-toned, lit-from-within look.
Another summer skincare multi-tasking product is Olay's Age Defying Anti-Wrinkle 2-in-1 Day Cream + Serum. Double-duty products make ideal summer skincare solutions that allow you to lighten up your routine. This product helps to minimize oily skin making it perfect for hot and humid weather. The serum helps to fight wrinkles and firm skin with niacinamide. Aloe and glycerin soothe and moisturize your skin. The product is deeply hydrating with an ultra-light texture. It leaves your skin feeling soft and velvety.
If you haven't tried Weleda, it's time to consider their skincare solutions. Weleda was founded in 1921 and is celebrating its 100 year anniversary. Their Sheer Hydration Daily Crème is a breathable, lightweight moisturizer that is formulated for day or nighttime use. Prickly pear extract and aloe combined with essential plant oils are incredibly nourishing for your skin. This moisturizer absorbs quickly and offers up to 24 hours of hydration. Considering their longevity and expertise in making clean skincare products, this is a brand you can trust to deliver effective solutions.
‌‌‌‌Lightweight Moisturizers for K-Beauty Lovers
If you are a Korean beauty lover like me, there are some great options available for summer skincare routines. These are some of my favorite Korean beauty brands and these skincare solutions that will help you achieve dewy soft skin during the humid summer months. Thanks to the water-based formulas and light textures, these lightweight moisturizers are top choices to achieve gorgeous summer skin.
Gel creams feel cool and refreshing when you apply them to your skin and Cosrx is a best-selling Korean beauty brand that delivers top-notch summer skincare options. This cream is cooling and green tea helps to soothe irritated and dry skin. This translucent, fragrance-free moisturizer is a lightweight option that offers deep hydration and an instant fresh finish. Cosrx Hydrium Green Tea Aqua Soothing Gel Cream is also an excellent option for those with oily skin. For an extra cool and soothing application, you may want to store the gel cream in your refrigerator.
Another beloved Korean beauty brand is Laneige. Their skincare delights people around the world and their Water Bank collection offers summer skincare products that hydrate and balance skin. Water Bank Hydro Cream EX helps to strengthen the skin barrier while providing all-day moisture in a lightweight cream. The Water Bank line contains antioxidants and Green Mineral Water with extracts from Brussels sprouts, artichokes, and lima beans. For an added boost, try the Laneige Water Sleeping Mask to purify your skin while you sleep. The Laneige Water Sleeping Mask is a best-seller and has a light scent that is relaxing and helps you fall asleep.
Banila Co. has taken water-based moisturizers to the next level by using fermented lotus flower water as a base in their Dear Hydration Boosting Cream formula. This summer skincare pick is a powerful moisturizer that feels light as a feather. The fermented lotus flower water is an antioxidant that helps protect the skin from pollution. The cream changes to a watery texture as it is applied to skin and customers are raving over the dewy, silky finish. This is one of my personal favorites and I love how makeup appears flawless when applied over this cream.
‌‌‌‌Best Budget-Friendly Lightweight Moisturizers
The cost of a skincare product doesn't determine its effectiveness and if you are on a tight budget, you can find options under $15 to change up your skincare routine. These products meet all the requirements needed for summer skincare, receive great reviews, and won't break the bank.
This clean beauty gel cream from Advanced Clinicals is an innovative formula that claims an instant increase in hydration by 88%. There are no heavy oils in the formula and it contains hyaluronic acid of varying molecular weights. Without getting overly scientific, what this means is the hyaluronic acid in the formula serves different purposes. Some smooth out the appearance of surface lines and wrinkles and some are absorbed for lasting hydration. This product offers a big bang for tight budgets.
If you love botanicals in your skincare products, Acure makes a summer skincare favorite that has over a thousand top-notch reviews. It is available in two sizes offering an ultra-friendly budget option. This Ultra-Hydrating Facial Moisturizer lasts up to 12 hours and is packed with organic botanicals that promote skin wellness and a healthy glow.
Cetaphil is a trusted brand widely recommended by dermatologists. The Daily Oil-Free Hydrating Lotion is a lightweight lotion that is a good option to moisturize normal to combination skin. While the formula feels very lightweight, Cetaphil's Hydrating Lotion is intensely hydrating and it absorbs quickly once applied. Cetaphil is known for creating gentle and effective skincare. While this is a perfect summer skincare solution, it's also a wonderful option to use all year round, especially if you have sensitive skin.