11 Best Teas for Digestion + Natural Products That May Help
DISCLAIMER
This blog does not intend to provide diagnosis... Read More

This blog does not intend to provide diagnosis, treatment, or medical advice. Read more. The content provided on this blog is for informational purposes only. Please consult with a physician or other healthcare professional regarding any medical or health-related diagnosis or treatment options. Information on this blog should not be considered as a substitute for advice from a healthcare professional. The claims made about specific products throughout this blog are not approved to diagnose, treat, cure, or prevent disease.
In this article: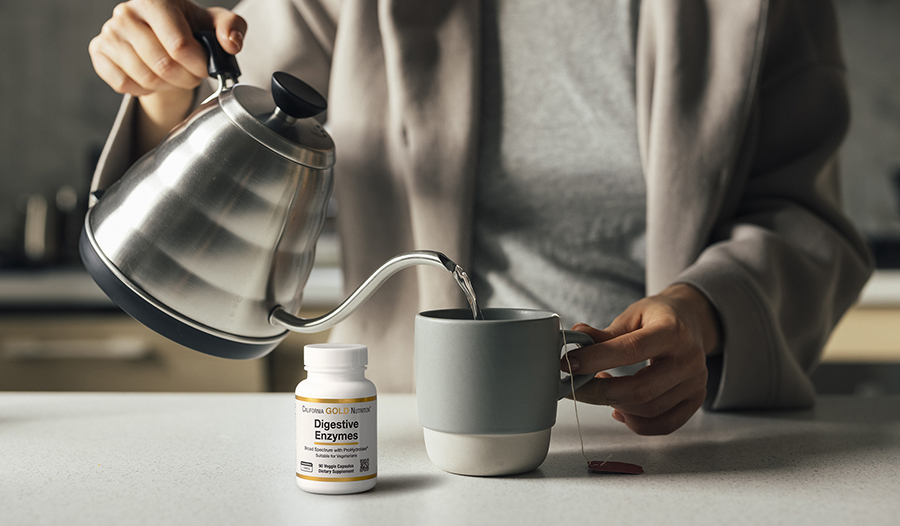 Humans have used herbal teas and supplements to support their digestion for thousands of years. Not only are they yummy to drink and widely available, but many are quite effective at helping to settle your belly and support better digestion.
This article highlights 11 of the best teas and natural products for digestion, along with recent research highlighting their efficacy. I also provide some of my favorite tips on easily incorporating them into your diet.
1. Ginger Tea
Ginger is a well-known digestive aid. Studies suggest it can help settle the stomach and ease nausea.1 It is often recommended for nausea and vomiting related to chemotherapy and morning sickness.2
For many, ginger is an essential part of their kitchen as it adds a unique flavor to food. It is a staple spice in Indian, Asian, and Caribbean cuisines. But it also has a long history of being used for medicinal purposes.
As a tea, ginger helps support digestion and relieve nausea. The active ingredient in ginger, gingerol, is believed to have stomach-settling properties that can help ease nausea and promote a healthy appetite.1 Additionally, ginger tea may help improve digestion by stimulating the production of digestive juices.
Ginger tea is often recommended as a natural remedy for indigestion and nausea. While ginger tea is generally well-tolerated and free of side effects, note that concentrated supplements, like ginger rhizome extract, may lead to diarrhea when taken in large doses.3
2. Peppermint Tea
Peppermint is a common ingredient in digestive supplements. It has a calming effect on the stomach and can help relieve gas, bloating, and indigestion.4 Peppermint tea is often consumed after meals to help with digestion.
The peppermint plant contains menthol, which gives the tea its minty flavor and aroma. Menthol has been shown to relax the stomach muscles and improve digestive function. In addition, peppermint tea can help reduce bloating and gas.5
The cooling effect of peppermint may also help ease an upset stomach and is generally safe for most people, but it can interact with certain medications. Also, peppermint's relaxing effect on stomach muscles can relax the pyloric sphincter and make reflux worse. Therefore, peppermint is not recommended for individuals with gastroesophageal reflux disease (GERD), and you should speak with your healthcare provider before drinking peppermint tea regularly.
3. Chamomile Tea
Chamomile tea has been used medicinally for centuries and is often used as a natural remedy for digestive problems like heartburn, gas, and bloating. It may also help reduce stress and anxiety, which can contribute to digestive issues. Occasionally it is used as a mild sedative to help promote sleep.
Chamomile contains antioxidant compounds that may reduce inflammation. Chamomile tea has even been shown to kill certain types of bacteria.6 Chamomile tea is generally considered safe, but it can cause allergic reactions in some individuals, particularly those allergic to ragweed, chrysanthemums, marigolds, or daisies.
4. Fennel Tea
Fennel is a member of the carrot family and has a sweet, anise-like flavor. Fennel tea is made by steeping seeds from the fennel plant in hot water.
Both fennel and fennel tea have been used for centuries as a digestive aid and may help reduce gas and bloating. They may help with digestion by stimulating the production of digestive juices and enzymes.7 Fennel tea is a good source of antioxidants, helps promote regularity, and may help support the immune system.
5. Lemon Balm Tea
Lemon balm tea is a herbal tea made using leaves from the lemon balm plant. It is often used to help soothe the stomach and aid digestion.
Some research suggests lemon balm tea may help reduce gas and bloating.8 It may also help with indigestion and heartburn. Studies suggest lemon balm tea can also help improve mood and reduce feelings of stress, which improves overall well-being.9
Generally, lemon balm tea is considered safe for most people to drink. However, it can interact with certain medications, so it is important to speak with a healthcare provider before drinking lemon balm tea if you are taking any medications.
6. Licorice Root
People in both Eastern and Western cultures have used licorice to support digestive health for thousands of years.10 As a demulcent, it may help treat stomach ulcers and heartburn by forming a protective barrier around the stomach lining.11 This barrier prevents stomach acid from coming into contact with the stomach lining and causing an ulcer.
Licorice may also help reduce the amount of stomach acid produced in the stomach. This can ease heartburn symptoms by reducing the amount of acid that comes back into the esophagus.
You can consume licorice root in various ways, such as licorice tea, capsules, or powders. Be sure to consult a healthcare provider before consuming licorice root, as it can interact with certain medications and cause side effects.
7. Fiber Supplements
Psyllium husk and flaxseeds are two types of fiber supplements that can help with digestion. Psyllium husk is a soluble fiber that absorbs water and turns into a gel-like substance. This gel adds bulk to the stool, making it easier to pass.
Psyllium husk is an excellent source of fiber because it does not ferment in the gut—fiber fermentation in the gut can lead to digestive discomfort, particularly in those with irritable bowel syndrome (IBS).12
Flaxseeds are also an excellent source of fiber. The lignans found in flaxseeds have antioxidant properties.
Most of us don't meet our daily recommendations for fiber.13 While it is ideal to get your fiber through the foods you eat, fiber supplements, in either powder or capsule form, can help you meet your needs if you are falling short. Be sure to drink plenty of water when taking fiber supplements, as they can cause constipation if not enough water is consumed.
8. Apple Cider Vinegar
Apple cider vinegar is often touted as a natural remedy for various health issues, including digestive problems. While some research suggests apple cider vinegar can help moderate blood sugar after carbohydrate-rich meals, the research on apple cider for digestion is very limited.14
Some believe apple cider vinegar helps with digestion by increasing stomach acidity, which can help break down food and make the absorption of nutrients more efficient. Additionally, apple cider vinegar contains pectin, a soluble fiber that may help promote regularity and relieve constipation.
To use apple cider vinegar for digestion, mix one tablespoon with eight ounces of water and drink before meals. You can also add apple cider vinegar to salads or other dishes. It is important to dilute apple cider vinegar before consuming it, as it is a strong acid and can burn the throat.
9. Probiotics
Probiotics are live bacteria that benefit your gut health. They can help improve the balance of bacteria in your gut and may help with conditions like diarrhea, irritable bowel syndrome, and inflammatory bowel disease.15
You can take probiotics as supplements or find them in fermented foods like sauerkraut or kimchi. Probiotic supplements come in different forms, like capsules, tablets, powders, and liquids, as well as different strains and dosages.
Different types of probiotic bacteria are distinguished by their genus, species, and strain. The most common probiotic strains are Lactobacillus and Bifidobacterium.
The appropriate dosage for an individual depends on the type of probiotic supplement and the person's health condition. Talking to your doctor before taking probiotics is important as they may not be right for everyone.
10. Aloe Vera
Aloe vera is a succulent plant widely used to treat skin and digestive issues. The gel from the leaves of the aloe vera plant can be applied to the skin to soothe burns and cuts or taken orally to treat digestive issues.16
The gel from the inside of aloe leaves is known as aloe vera latex and is a strong laxative. For this reason, aloe vera is often used as a natural treatment for constipation and other digestive problems.
Aloe vera gel may help soothe an upset stomach and promote regularity when consumed orally. It may also support the immune system and protect against infection. While more research is needed to confirm these effects, aloe vera is generally considered safe.
11. Digestive Enzymes
Digestive enzymes are proteins that help the body to break down food. There are many different digestive enzymes, each with a specific function. For example, amylase breaks down carbohydrates, lipase breaks down fats, and lactase breaks down lactose, the predominant sugar found in milk. These digestive enzymes are produced by the digestive system, pancreas, and liver.
Some studies suggest that digestive enzymes may help promote good gut health in specific individuals by breaking down food and making it easier for the body to absorb nutrients.17 Additionally, they may help reduce inflammation and prevent digestive disorders such as irritable bowel syndrome.
Takeaway
From ginger and fennel tea to digestive enzyme supplements, there are many natural ways to support your digestive health. If you're struggling with digestive issues such as gas, bloating, diarrhea, or constipation, it's always best to consult your doctor or registered dietitian, who can offer more personalized advice based on your unique health needs.
While these herbs and supplements are generally considered safe for most people, always consult your physician or registered dietitian before starting any new supplements to be sure they are appropriate for your health condition and won't interact with any medications you are taking.
References: